20. FEBRUAR 2007 [20'00'']
_UT CONNEWITZ_
[Wolfgang Heinze Straße | Connewitz | Leipzig]
Das Schubladenkonsortium präsentiert mit freundlicher Unterstützung durch Electric Eclectic:
THUNDERBIRDS ARE NOW! + SAROOS
LIVE
THUNDERBIRDS ARE NOW! [Detroit|USA|French Kiss Records]
SAROOS [Berlin|München|Alien Transistor]
DJ SUPPORT
REPEATBEAT [Leipzig|Bleep-Hop|Electric Eclectic]
INFORMATION
THUNDERBIRDS ARE NOW! haben gerade ihre dritte Platte veröffentlicht, ein ganz große Indie-Album. Ihr Gittarist Ryan Allen bringt es besser als jeder Musikjournalist auf den Punkt: " Ein paar Beatles zum Frühstück, ein wenig Smiths zum Mittag, die Pixies zum Abendbrot und manchmal gibt es dann auch noch ein wenig New Pornographers als Mitternachtssnack." Classic post-punk with a modern twist! THUNDERBIRDS ARE NOW! muss man einfach lieben, denn TAN! bieten die richtige Mischung aus Rapture, Bloc Party, Robocop Kraus & Yeah Yeah Yeahs! Live übrigens noch besser.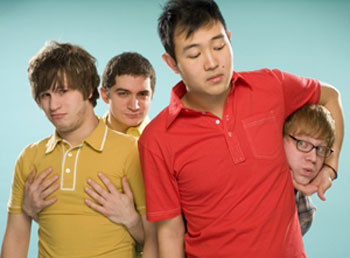 Davor spielen SAROOS aus Berlin und München auf. Es wird etwas ruhiger, dafür "unfassbar" schön, wie es auch Thaddeus Herrmann (aka Thaddi, u.a. auch Betreiber der Labels CityCentreOffices und Buero) jüngst in der DE:BUG treffend beschrieb: Die Verschrobenheit des amerikanischen Indie-HipHops aus der Sicht des Minimal in die Welt der Bands umsetzt, dabei so behutsam mit jedem Sound umgeht, dass einen die Songs wie wohlig gewärmtes Wasser umspülen und die Klarheit und Eindeutigkeit nie verloren geht (...) Was andere nie schaffen würden, treibt Saroos problemlos zur Perfektion. Sanft konkretes Federn auf allen Spuren, freundliches Geräusch, groß angelegte Bögen, die auch im Ausschnitt immer klar die Richtung weisen, und ein einzigartiges Gefühl, hier genau richtig zu sein ... in der Welt von Saroos. Jedem Sound sein Siegertreppchen.
SAROOS sind übrigens Florian Zimmer (iso68/jersey), Cristoph Brandner (Lali Puna). Live wird außerdem Max Punktezahl (Contriva, Jersey/ Livemusiker bei The Notwist) dabei sein. Ihr selbstbetiteltes Debüt ist Ende 2006 auf Alien Transistor dem Label vom Notwist-Frontmann Markus Acher erschienen.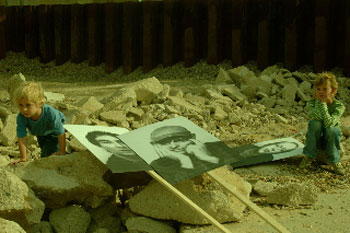 und hier gehts weiter (:
Do.22.02. 22:00 Jeans Team (@)
Ilses Erika, Leipzig
Fr.23.02. 20:00 Comeback Kid, Black Friday 29, Rise and Fall, Final Prayer, Justice (@)
Conne Island, Leipzig
Sa.24.02. 20:00 Doí, Ter Haar (@)
UT Connewitz, Leipzig
Sa.24.02. 23:00 Irene + DJ Kick N Rush (@)
Ilses Erika, Leipzig
Sa.24.02. 23:00 Fairmont aka Jake Fairley - live (border community/dumb unit/sender/kompakt/traum) Rentek - DJ (caramba records/giroton), Mapache - DJ (manamana/velocitysounds)(@)
Conne Island, Leipzig